Type 41 (Royale)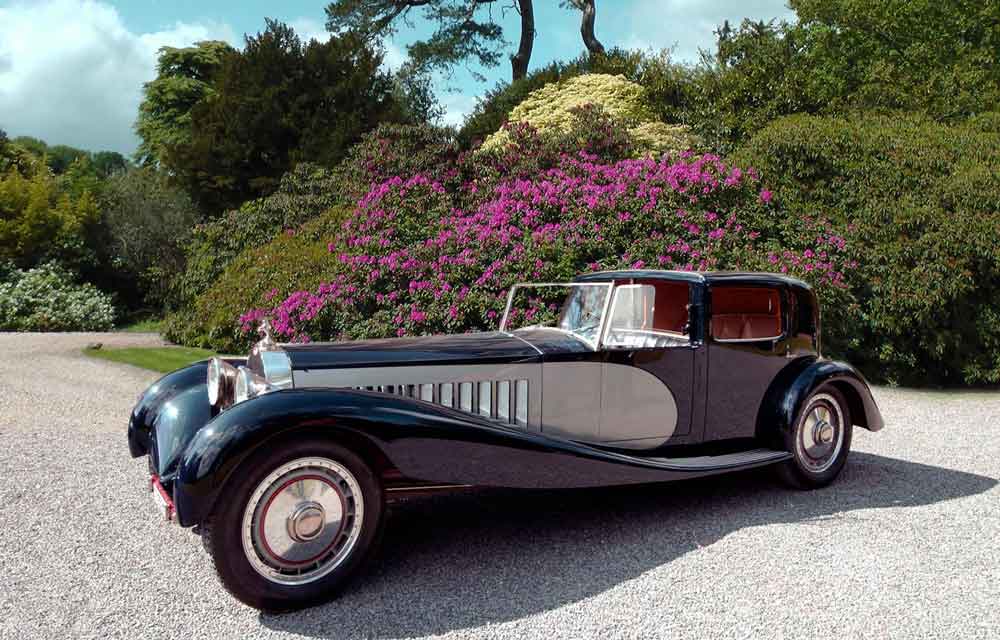 By 1927 Bugatti had established a strong reputation for producing not only fast sports cars but luxurious vehicles too. However he was always conscious that Rolls-Royce had a better reputation than he had at the top end of the market. Reputation in those days was everything; he was determined to wrestle the crown away and to do that he proposed to build the biggest and most luxurious car in the world, which he would sell only to royalty (who, to be realistic, would be the only ones able to afford it!). It was to be named the type 41 Royale and production was to be limited to 25 models.
And what a monster this car was; one of the biggest cars in the world tipping the scales at around 7,000lb and, with the engine alone stretching to 5 feet long, it was around a fifth longer and a quarter heavier than the later Rolls-Royce Phantom V11. Despite this it was surprisingly nippy and easy to drive although some considerable strength was needed by the driver when it was necessary to hit the brakes!
The engine was a huge 12.75 litre straight eight cylinder monster producing around 300 brake horsepower, which propelled the car to around a hundred mph maximum and acceleration from nought to 60 in around 18 seconds; very creditable for such a large motorcar. It had been originally designed to power aircraft no less. The car was luxurious indeed. Switchgear was in whalebone. Steering wheel? Walnut. There was even a sculpture of an elephant on the radiator. The gearlever knob was in ivory.
This was an expensive car. In 1929 the chassis alone was around £18,750; bodywork was, of course, an extra. Sadly, it was just too expensive. The crowned heads of Europe had other things to think about at the time, not least a world economic recession, and even the 25 originally planned were too many and out of the seven that were manufactured, only three were sold. The project was, on the face of it, a complete flop. However 23 more engines had already been built; these were adapted to use for high-speed rail cars so in the end it was a commercial success, but not the way it was intended!
The seven completed cars had a very chequered career.
Around 1930 or 1931 – perhaps understandably, details are a little unclear – Bugatti himself was driving one of them when he fell asleep at the wheel. In the subsequent crash he survived, apparently unscathed, but the car was very badly damaged.
Three of the remaining six – the ones that had not been sold – were hidden away and bricked up at Ettore's French home to prevent the German invaders from commandeering them.
Another one, privately owned, was hidden away in a French sewer for the same reason.
Two were sold to a racing driver named Briggs Cunningham; he is said to have paid US$3000 as well as two refrigerators, which were at the time in short supply in France. This could have been the bargain of the century since when Volkswagen took over the Bugatti brand they bought one for a reputed £12.5 million.
Next Bugatti - the Type 50